The countdown has begun for one of the most anticipated events of the year: WORKDAY RISING EMEA 2023! From November 14th to 16th, Barcelona will play host to this premier event, bringing together industry leaders, innovators, and visionaries to discuss the future of work.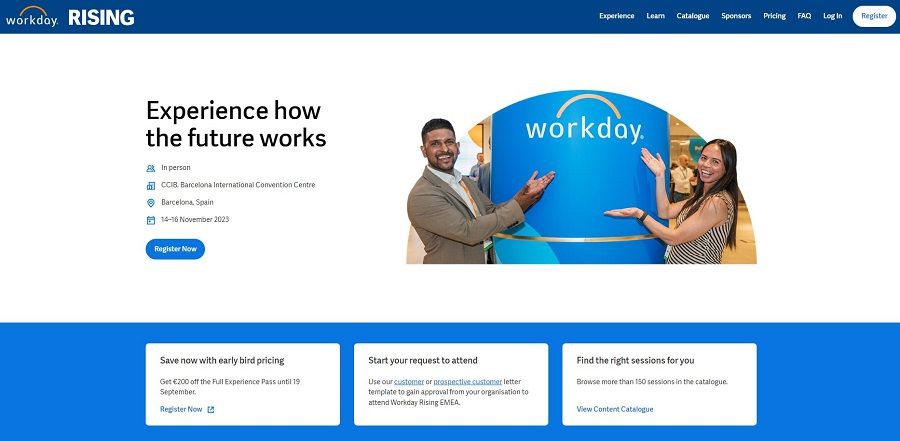 What Is WORKDAY RISING EMEA 2023?
WORKDAY RISING EMEA is an annual conference that showcases the latest trends, technologies, and strategies in the world of HR, finance, and business planning.
This event offers a unique opportunity for professionals to network, gain insights, and shape the future of their organizations.
Your Promotional Needs for WORKDAY RISING EMEA 2023
As you prepare for this influential event, it's crucial to make a lasting impression. Promotional gifts and materials can be the key to standing out and leaving a positive impression on attendees.
That's where we come in!
MyM Regalos Promocionales: Your Solution for Promotional Gifts in Spain
At MyM Regalos Promocionales, we understand the importance of promotional gifts for events in Spain, like WORKDAY RISING EMEA 2023.
We specialize in providing high-quality, customizable promotional items that will help you make a memorable impact at the conference.
Our extensive range of promotional products includes:
Branded merchandise: From pens to tote bags, we have a wide selection of items that can be customized with your logo and messaging.
Tech gadgets: Stay ahead of the curve with innovative tech giveaways that attendees will love.
Apparel and wearables: Create a unified and professional look for your team with branded clothing and accessories.
Eco-friendly options: Show your commitment to sustainability with environmentally friendly promotional products.
Why Choose MyM Regalos Promocionales?
Quality: We take pride in delivering top-notch promotional items that reflect your brand's quality and reputation.
Customization: Our products can be tailored to your specific needs, ensuring a unique and memorable presence at the event.
Reliability: With years of experience, we've built a reputation for delivering on time, every time.
Competitive Pricing: We offer competitive pricing without compromising on quality, making us a cost-effective choice.
Contact Us Today!
Don't miss the opportunity to make a lasting impression at WORKDAY RISING EMEA 2023.
Contact MyM Regalos Promocionales today to discuss your promotional needs.
Let us help you stand out and leave a lasting impact at this prestigious event!