Promotional Products in Spain
At MyM Regalos Promocionales we speak fluent English! We are a marketing agency specialized in promotional merchandise and we have been working more than 12 years providing corporate gifts to companies all over Spain.
We are base in sunny Canary Islands but we have clients all over Spain, including Madrid, Barcelona, Bilbao, Sevilla, Gran Canaria or Tenerife.
We have a cathalogue with more than 3.500 promo items, from classics like mugs, pens, USB memory, promotional clothing, or keyrings, to more sophisticated items such as Power Banks.
Our fantastic support team will help you choosing the perfect goodie for your company so you can show your image and create brand awareness with quality promotional products.
Tech gifts
We have a wide variety of company gifts related to techology, that you can personalize with your logo or brand. Items such as personalized USB Flash Drives, Power Banks, headphones, speakers, radios … and a myriad of technology-related company gifts.
For personalized pendrives we have special services, such as file insertion, as well as the possibility of making custom pendrive memories, in 2D or 3D.
You can find all these items in our online store, where you can see thousands of items and calculate prices, which will always be final prices, including customization, delivery and corresponding taxes.
Goodies for events
Many events would not be possible without the sponsors, companies that contribute capital to finance the event, in exchange for publicity for your brand, usually in the form of merchandising for events.
For example, in sporting events items such as personalized hats, fans, clappers, whistles are often given away.
In corporate events, the most common promotional material is usually personalized folders, briefcases, notebooks, pens, USB sticks…
Visit our ecommerce
Have a look at our online shop where you will find all our products. The web is in Spanish though, If you need some clarifications please don´t  hesitate contacting us. Visit de online shop now!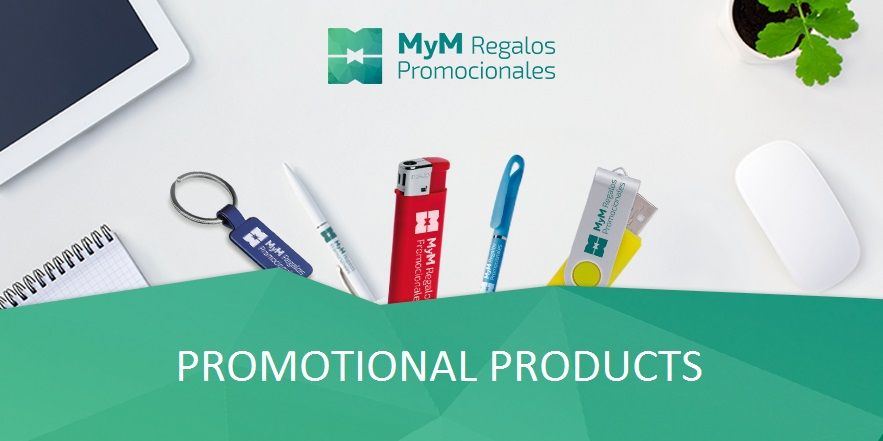 ¿Do you need some help with promotional products?
Contact us